DIY Halloween Costumes 101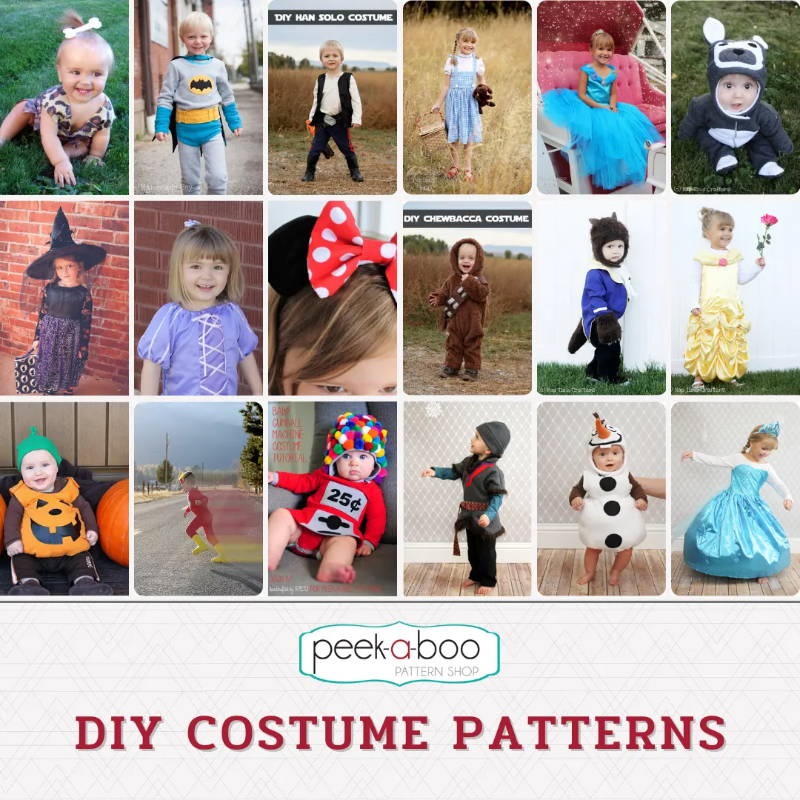 DIY Halloween Costume Patterns are a tradition here at Peek-a-Boo Pattern Shop. Ever since my kids were small, I've sewn their costumes. From Star Wars to Disney Princess to Superhero to a little panda…. I've done whatever the kids think they need and shared my tutorials both here at Peek-a-Boo Pattern Shop and over at Peek-a-Boo Pages.
I usually need to start working on my Halloween Costumes in the summer so I can get together blog posts, take photographs, and share sewing patterns and tutorials with you just in time for the kid's big day.
I always need to get the perfect location to take my Costume Photographs. A lot of time its been somewhere in public or in front of neighbors…and I admit I get a few odd looks. People tend to stare when you get pictures of your kid dressed up like Chewbacca in August…..
Most of all I love sharing these tutorials with you so that I can see what you create. Every Halloween, hundreds of Peek-a-Boo Pattern Shop customers come to share their creations at our Peek-a-Boo Pattern Shop Facebook Group. Be sure to come join us and show us what you sewed up.
To help you get started in your costume sewing journey I've put together this blog post of all the resources we offer, including our: (1) Free Costume Tutorials, (2) Costumes with FREE Pattern Pieces, and (3) Costume Sewing Patterns for Sale.
Sewing Patterns for Easy Halloween Costumes

The Ultimate Costume Creator from Peek-a-Boo Pattern Shop has a full tutorial, color photos, and a printable PDF. It has hundreds of Halloween Costume possibilities. The pattern itself including the following options: (1) Collar; (2) Neckband; (3) Hood; (4) Ears: Cat/Fox, Dog, Lion/Bear, Horse/Unicorn; (5) Dinosaur Spikes; (6) Unicorn Horn; (7) Tails: Contoured, Standard, Dinosaur; (8) Manes: Horse/Unicorn & Lion; (9) Optional Clinched Waist; (10) Short or Long Sleeves; and, (10) Hemmed or Cuffed Sleeves & Pant.
Our customers have used the costume creator to sew hundreds of different costumes for their kids, including Ghostbusters, Mechanics, Firefighters, Pilots, Jedi's, Elvis, Astronauts, Prisoners, Cats, Fox, Dog, Lion, and more…..the possibilities are endless! You need to get the Costume Creator!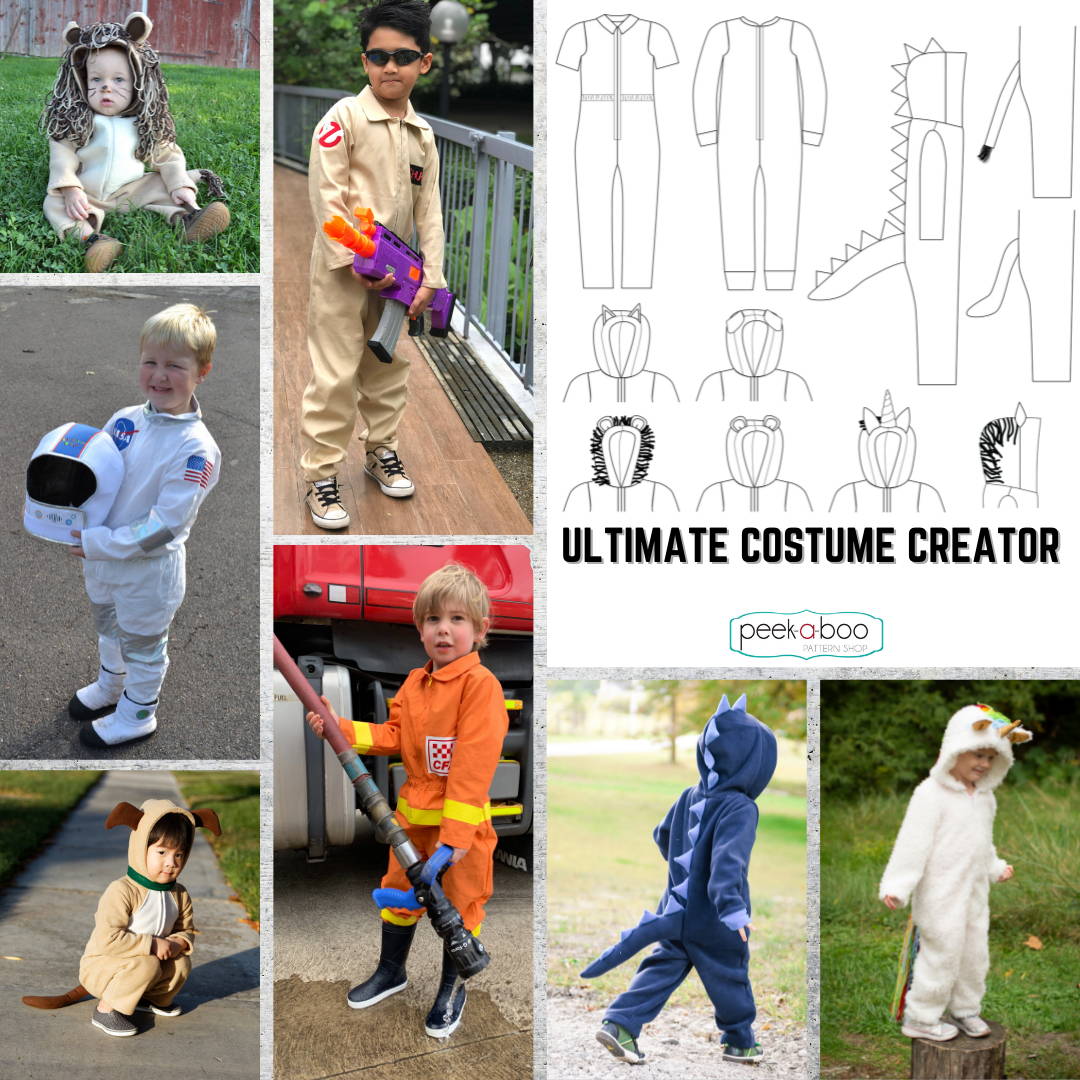 Another multi-option pattern we have for you in the shop for costumes is the Practical Princess. Use the practical princess to get a wide range of dresses inspired by your favorite princesses. One thing that everyone likes about the Practical Princess is that you can use cozy knit fabric for your costume…these costumes are fun to wear to the palace or the playground as an everyday outfit for your kids!
Our customers making their own costumes have used the Practical Princess to create Rapunzel, Snow White, Cinderella, Sleeping Beauty, Merida, Belle, Elsa & Anna, Elena of Avalor, Little Red Riding Hood, Alice in Wonderland, a Witch, Cat Woman, medieval Times, and Moana…..the possibilities are endless.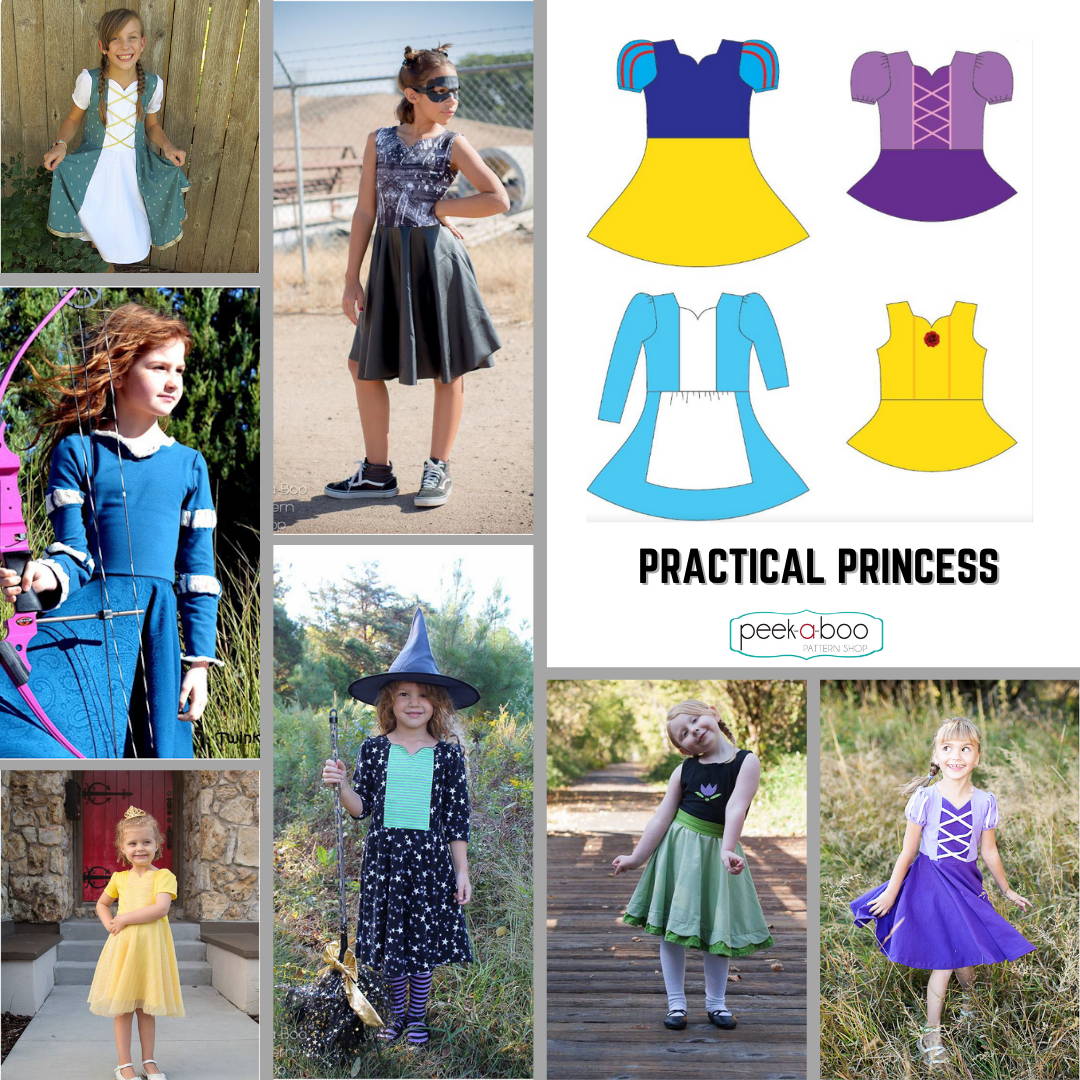 "This was my literal first pattern sewing project, and I had to learn a ton of new things to complete it, but I did, it is great, and I expect the same pattern will serve me in the future for new fabrics and creatures." - Mario
"Clear instructions. I am a beginner in sewing. Never thought I would be able to make a costume (installed a zipper for the first time with this costume) but the Ultimate Costume Creator's step-by-step clear instructions made it possible." - Natalia
"This was my first time sewing with knits and it was made so simple by following this thoughtful pattern. My daughter will be the best alligator around this year! So excited about being able to use this year after year." - Laura
"Perfect. I love it!..English is my second language but no difficulty at all. To do again and again!" - Andree-Ann
"Making Disney Princess dresses for my Granddaughters to wear when they visit Disneyland and this pattern was perfect...quick to make and the results look like they are fit for a princess." - Karen
"One of my Pre-K students saw a picture of this dress. She asked me to make one for her. It was fun to create a special dress...I loved ordering my fabrics from this site as well as getting the pattern. I know I will be making more of these sweet dresses." - Nona
Your child's imagination can take flight with the Wonderland Wings pattern. The pattern includes 3 fun wing shapes: Butterfly, Fairy, and Bat/Dragon/Devil.
These are constructed from fabric and interfacing (no wire required). Comfortable elastic straps hold the wings in place.
"Perfect costume piece....Can't wait to make another pair of these." - Pamela
"I made the butterfly wings and my daughter asks to wear them very often. Sewing was easy. I didn't run into any issues. The topstitching took some time, but I think everything was done in 2 hours." - Diana
If you need to keep it simple for your costume you should try our Super Kid Cape Pattern. The pattern is here to help your little ones save the day! The cape is fully reversible so you can personalize each side for double the fun. Sewing pattern includes 7 fun shapes for appliqueing and a full alphabet.
You can get the Super Kid Cape pattern and tutorial for FREE by signing up for our newsletter HERE.
"I will make more! Just getting back into sewing after years of not sewing so I guess I am starting over as an advanced beginner. This was easy and made me feel accomplished." - Sharon
Make Easy Halloween Costumes with Free Pattern Pieces

We also have a number of other FREE DIY costumes that have pattern pieces. Each of these also have a tutorial on our blog, with a link at the relevant listing. You can receive the FREE Pattern Code after you subscribe to our newsletter HERE.
These patterns can all be found in our Freebies section at Peek-a-Boo Pattern Shop.
Your little one can be the Belle of the Ball with this free-dress up sewing pattern. This free Belle dress-up will fit most toddlers. It also has velcro closures to help get it on and off quickly.
"Beautiful pattern so easy to follow." - Jayne
"Easy and clear instructions. Such an easy and beautiful pattern! My girls are thrilled!" - Danelle
Your daughter will need to dance the night away at the ball with the free Cinderella Ball Gown Pattern! The pattern is free in size 5.
"Thank you for the wonderful pattern. It was easy to sew thanks to your very clear instructions and photos. Even a person who is not a seamstress can do it." - Leana
If you want to build your kids into a snowman then this is the perfect pattern. The pattern in the shop includes the snowman body. The rest is made with the tutorial HERE.
"Beginner sewer and I made it!!! I am a beginner at sewing with NO lessons, and I made this costume for my grand niece...she loved it! Thanks for making me look like I know what I'm doing." - Carrie
Your little girl's dreams will come true with this free Ice Queen dress-up pattern from Peek-a-Boo Pattern Shop! It's long, sparkly and has a train…what's not to love?!
"Beautiful Dress. I have been sewing this for my Grandy who is 3 1/2 I love that there is no Zippers and that it is a pull on as this is important for "dress ups' ... THANK YOU." - Robyn
Here comes the Beast. If you need to get your kids to match this is perfect to pair with Belle above.
"So cute! I loved that the printed pieces were actual size. I made this for my 2 year old grandson for Halloween, and he looks absolutely adorable in it. I was so very pleased." - Rebecca
Don't leave out the little guys when it's dress-up time! Come get this Nordic Tunic shirt in the shop to complete the Frozen fun. This pattern is only available in size 2T.
"Thank-you for providing these well written instructions and pattern! The costume turned out great!" - Sarah
Free Accessories for an Easy Halloween Costume

The Perfect Petticoat is the perfect tutorial to add something to so many costumes. It will help you add a little pouf to any party dress. It can also be worn under any dress with full skirt for extra puff and volume. It also makes a great last-minute Halloween costume.
"Fabulous little skirt when its done." - Summer
"Wonderful design. Fabulous!" - Donna
The Jack Frost Hat is fun for Christmas time but can also add something to many different costumes. We've seen a number of elf costumes come from it. It's a quick and fun sew and can be made from knit or fleece.
"Perfect! I love how quickly this hat comes together. My 7 and 10 year old boys used the pattern to make hats as Christmas gifts. It's very versatile - we used cotton woven, flannel, and fleece when we made them." - Beth
Tiny Chef Apron & Toy Oven Mitt
The Tiny Chef & Apron Mit is another idea for quick and fun homemade halloween costumes. It's a perfect diy project to make an apron for pretend play or helping out mom in the kitch. Apron ties at the waist and has an elastic neckline.
"Great pattern! My granddaughter loved it. It went together well, really liked the elastic neck band!" - Janlyn
"Loved this pattern. Very user friendly for a novice like me!" - Denise
Free Tutorials for Easy Halloween Costumes

We also have a ton of free pattern tutorials to get over at Peek-a-Boo Pages. Some of these were my creation and some are from our various blog contributors from over the years. Most of the Tutorials listed above from Peek-a-Boo Pages are pretty simple and some are even no-sew. Look through here to find some great Halloween costume ideas.
Many of those tutorials list other patterns you can get from Peek-a-Boo Pattern Shop that you may need to create the character. For instance, the Dragon Costume links to our Essential Sweats, Classic Sweatshirt and Wonderland Wings sewing patterns. You'll be sure to have a unique Halloween creation with the various tutorials and costumes found on the blog and in our shop.